Mechanization of agriculture was once gaining popularity. In the last decade, spectacular effects have been achieved by processes optimization automation. In the following years, the possibilities of artificial intelligence will never cease to surprise us. The world is continuously changing, and our organizations are changing with it. The study shows that only 18% of the surveyed clients of warehouse facilities, and therefore not even every fifth company on the market, already today use licence plate recognition systems in logistics parks. Further 22% plan to use such systems in the near future. Companies that have not grown in the right direction must now follow their competitors. Leaders create changes to provide customers with the best products, the most efficient services and the largest savings.
It's been three years since SEGRO asked us to optimize the processes at the entrance gate in the logistics park. If the measure of success is the number of clients and implementations, then we can declare victory. Today, SEGRO uses VnetLPR – a notification, pass and access control system in all its parks. We have implemented further several dozen systems for other customers. We are happy with the savings generated each month and the additional benefits provided with the VNetLPR solution, and the possibilities are increasing with each new implementation and subsequent version
Initially, the VnetLPR system was to register entries and exits while speeding up their handling. VCN is known for its creative approach to challenges, so the first version neatly combined the needs of three groups of users: security, who usually is an external company, tenants, who are customers of the company owning the park, and managers. In practice, we deal with yet another group – guests and suppliers.
For many facilities, VnetLPR is the first IT system that their security personnel deal with. The system is so intuitive that the training is completed barely within an hour. The acquired knowledge is easily passed on to subsequent shifts, and the sign in and out quickly lands in a drawer sometimes already on the first day after the implementation.
Although the latest version of VnetLPR supports classic KD readers, the basic task of the system is to identify vehicles by their license plates. The system works with LPR cameras from major manufacturers. To use any cameras, it is integrated with server analytics. Our latest version of server analytics, based on neural networks, correctly recognizes licence plates on images that may be challenging for a human eye.
Adam Szulc,
Co-owner, VCN
Combined Heat & Power (CHP) plant Wrocław
Large area
Technical and organizational complexity
Spaces / objects:

Office buildings
Production halls
Warehouses and storages
Loading platforms
Technical facilities: workshops, services, car wash
Parking areas.

Number / type of users

100 employees (Including mobile) using the system simultaneously
Detailed notifications of visits:
company, driver, date and time,
stay duration
Required functionalities:

Database for 100,000 vehicles and/or drivers
Visitor badges / passes for vehicles and/or drivers printed with barcodes
History of visits / stays, including photographs and video recordings of entry / exit
Stay duration monitoring
Reports generated.

Strict supervision of external subcontractors operating on the premises
System operated by means of internet browsers on stationary and mobile devices:

Multiple users logged in in real time

Notification and pass system:


Expanded database (number of fields in a record)
Pass issuance (manual or automatic)
Wireless barcode scanners
Alerts on stay duration exceeded
Integration with CCTV monitoring
Repository for camera images and footages.

Special module for supervision inspectors:


Special authorizations and permissions
One of the largest combined heat and power plants in Lower Silesia
14 hectares of land under protection
Many entry and exit gates with barriers
Numerous security staff members
Over 100 employees raising notifications
Hundreds of vehicles and drivers entering, leaving, and move around the area every day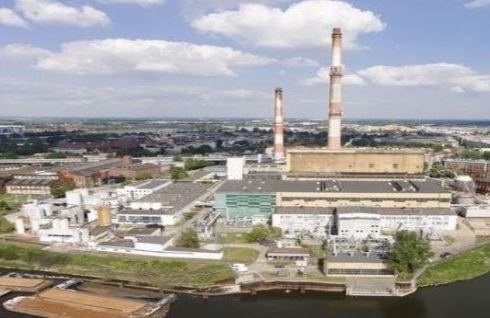 Implementation goals set and achieved
Central vehicle and driver database
Central entry and exit register
Shorter document preparation time
Standardized procedures and security controls
Immediate identification of vehicles parked or moving around business premises
Automatic alerts sent to security personnel